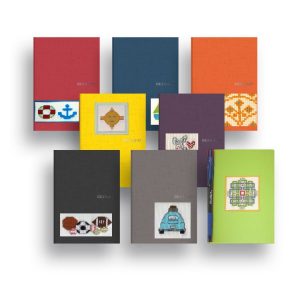 We offer hand cross-stitched patterns on the front cover of Fabriano – EcoQua and Moleskine Journal Notebooks in variety of colours.
The notebooks are made of ecological acid Free paper. The cover features embellished cross-stitched pattern individually handmade to suit the notebook in various colours and size.
Available in 8 different light-fast colours. Ideal for any kind of writing: ball pen, fountain pen, felt-tip pen, etc.
Notebook Pen Set includes – Papermate Click Pen and Fabriano EcoQua notebook starting at $ 25.00 for small compact-size.
Notebooks only: Starting at $ 20.00 +