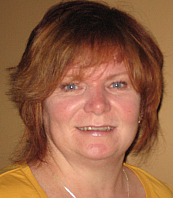 Louise C. Goodwin, designer, proprietor, combined the passion for cross stitch embroidery ideas to make a notable, unique and an eventful gift to remember.
Louise has a love of all arts and crafts. She was taught cross stitch embroidery by peers in her early teenage years. She enjoyed the idea of designing patterns and cross stitch needlework for personal use.
Later, she had grown tired of seeing the usual gifts over the years at the baby showers. She had decided to cross stitch patterns to fit the inside pockets of various sized photo albums. The photo albums range from the small compact size for the parents as brag albums to larger leather-bound albums for their keepsake gifts. She had also created personal "Baby Birth Announcement Samplers" framed artwork for their nursery. She had found these gifts so much more personal and from the heart.